Flagstone stands out as Irwin Stone's most popular product. Customers love the versatility, easy installation and durability that our flagstone offers. Most importantly, they love the price! Because when you buy where the contractors buy, you know you're getting the best deal. We pride ourselves on customer service, and we're always happy to help you decide which flagstone is right for you. Check out our huge selection below and contact us to learn more.
Download our Product Brochure
Buy Flagstone Where the Contractors Buy
Professionals buy most of our flagstone. Why? Because they appreciate the high quality of stone at a reasonable price. Irwin Stone is built on dependably delivering what contractors need.
You, too, can benefit from our system! When you buy where the contractors buy, you know you'll get the right price on the best flagstone in the area.
The Importance of Quality Flagstone
When you buy a pallet of flagstone from other providers, you're going to get unusable pieces. In a 300 sq. ft. order, you'll likely get 20 sq. ft. you don't want. You'll find stones with chisel marks, stones that are too rough, and stones that are cracked, broken or chipped.
You know what you're getting at Irwin Stone. We let homeowners personally pick through the stone. You can make sure you get exactly the color and quality you need to make your project a success.
Flagstone Patios
We offer more than 20 types of flagstone colors and shapes to fit your needs. It come in colors like blue, gray, buff, brown, tan and variegated. It is typically sold in either square cut (squares and rectangles) or irregular shapes, sometimes referred to as broken.
Nothing beats the versatility of a flagstone patio. When you add a patio to your home, you essentially add another room. And that room can be whatever you want! You can adapt the material to your needs.
Our knowledgeable stone yard staff can help you pick the flagstone of your dreams. Let us help you find what you're looking for. And, because you're buying where the contractors buy, you're certain to get a quality product at a quality price.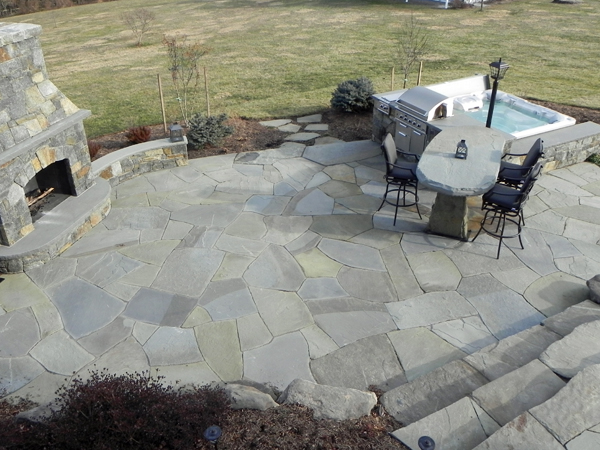 Entertain Family and Friends
Maybe you want a patio where you can entertain a huge group of family and friends. Flagstone is up to the test. It stands up to heavy foot traffic and the shuffling of furniture for decades. Its legendary durability means you won't have to shop for a replacement in 10 years.
Or you want a space where you can enjoy meals outdoors. Cooking in the fresh air means you don't have to slave away in the stifling heat of an indoor kitchen or fill your home with sometimes-oppressive smells that come with meal prep. A flagstone patio can withstand the heat of heavy grilling or an outdoor brick oven.
Perhaps you want a comfortable shaded area where you can tend to hanging plants and a planters garden. Shaded flagstone stays cool even in the summer. And it washes off easily with a hose, so you don't have to worry about making a mess. Hang up a hammock, and you've got a cozy garden hideaway.
The absolute best thing about building a patio with flagstone: You can have all these. Irwin Stone's commitment to giving you the best prices means that you could splurge on a patio with a kitchen, a large spot for dining and entertaining, and a garden tucked away. Your money goes further, so you get more of what you want. That's the promise when you buy where the contractors buy.
Flagstone Walkways
Walkways create the lines that define your landscape. They guide your guests through the major landscaping features of your yard and create containment for those features. Walkways help partition off your landscape into discrete sections, defining exactly what space will be occupied by the vegetable garden and what space the koi pond will reside in. Walkways are the connective tissue that expands your useable living space out to these features.
For walkways, you can't beat flagstone. Our large variety of shapes, sizes and colors means you will find what you need to build a flagstone walkway that feels like a natural extension of your landscaping.
Do you have a very formal garden? A straight walkway with just one color and right-angle flagstone works well. It gives your garden elegance and makes the landscaping feel very intentional. A straight walkway sets up touches like a proper garden entranceway or ornamental gate. You'll want your color to contrast with the plants so the walkway stands out.
If you'd rather your landscaping have a relaxed feeling, a curved walkway with an assortment of colors lends a touch of whimsy. Your personal touches like lawn ornamentation, bird houses or arbors will harmonize better with a curved flagstone walkway. Your colors should vary, but draw from the hues of the surrounding plants and soils.
Or maybe you have dense foliage and abundant tree cover, giving your landscape a wild feeling. With flagstone, your walkway can match that energy. You can space irregularly shaped stones far apart, unjoined, and create a patchwork walkway that matches footfalls. The grass in between accents the wildness of the path. There are "steppable" plants that can tolerate foot traffic and do not grow tall enough to overtake the flagstones. Some even give off pleasant scents when crushed.
If you go another direction and decide on gravel walkways, you can use flagstones on the edges to give the walkway a clean, finished look.
Aside from the variety to match any taste, flagstone gives you the best look for the price. When you buy where the contractors buy, you can stretch your walkways further.
And you will love the way those walkways feel. Light colored flagstone stays cool even in the sweltering heat of summer. The textured stones are non-slip when wet, so you can walk barefoot through your yard in that magic time when the sun comes out right after a rain.
We also see clients installing flagstone for utilitarian reasons. Light flagstone walkways can transform paths from your driveway to front door. A path from your garbage cans through your side gate to the driveway makes garbage day far less of a chore.
Your flagstone walkway can withstand freezing and thawing without trouble, and it will be easy to maintain as well. All you'll need to worry about is the occasional sweeping or hosing down of your walkway. The material never rots, so your walkway won't need frequent replacements.
Flagstone comes in a multitude of colors, and each stone has a unique grain, meaning your walkway will be a one-of-a-kind.
Flagstone Entrances
A flagstone entrance serves as a great transition from your landscaping to your building's exterior. Especially if you have a natural building stone exteriors or thin stone veneers. The cohesive stone look marries your home and landscape in a natural way that you can't replicate. Even without stone exteriors, we've got so many colors you'll find flagstone to match your entrance easily.
But you get more than aesthetics when you buy flagstone from Irwin Stone. It stands up to the heavy foot traffic your entrance will get. It's durable enough to last for years and years without cracking under regular stress. If something unusual happens, and a stone does crack, you can easily pry out the cracked stone to replace it.
Flagstone entrance installation will pose no problem for handy do-it-yourselfers. With pavers, you have to lay down a subbase, build a setting bed, run a plate tamper over it, lay down edge restraints, the whole nine yards. You might make a mortar bed for flagstone, but you can also just lay it down on existing concrete or compacted sand or gravel. Simply fill in the space between the flagstones with stone dust or polymeric sand.
Flagstone requires little to no maintenance, just sweeping and a hosing down. You don't want to use harsh cleansers on it because they can degrade the natural stone. Over the winter, you should avoid using rock salt to deice your flagstone entrance. Rock salt eats away the stones as well as the mortar or grout between the stone. Instead, you want to use calcium magnesium acetate (commonly called CMA), which doesn't corrode your stones. CMA is safer for the environment and pets than rock salt, too.
Flagstone entrances mitigate major mud catastrophes. Many of our clients tell us they need flagstone entrances in the front and back because of the mud problems they have in those high-traffic areas. Adding one in the front gives your guests a place to kick off the dirt, and adding one in the back keeps your dog from digging in that area and/or creating a mud pit.
Interior Flagstone
Flagstone works well indoors as well as outdoors. A flagstone mud room provides a nice transition point from the outdoors. It gives you a place to slough off boots or dirty shoes so the rest of the house stays clean while the dirt and mud ends up in an easy-to-clean location. A broom and mop gets a flagstone mud room right back to spic and span.
A flagstone kitchen floor can make a big impression. With all the available colors and styles, you can find a flagstone to accentuate your kitchen's design. It works great with traditional or farmhouse kitchens, adding to the rustic feel that accentuates wood cabinets.
Many clients also lay down flagstone in their bathrooms instead of tile. Its natural grains and pits can't be replicated by artificial stone replacements. So if you want that look, there's only one way to go. Plus, a natural stone floor in the all-important bathroom give you higher resale value when you try to sell the home.
With flagstone flooring, you can also install floor heating systems, which are becoming trendy add-ons for bathrooms. A half-inch stone will conduct heat well, and the ease of installing it makes the project more feasible for a do-it-yourselfer.